[SOFTEL] IP65 Telecom FTTH outdoor distribution box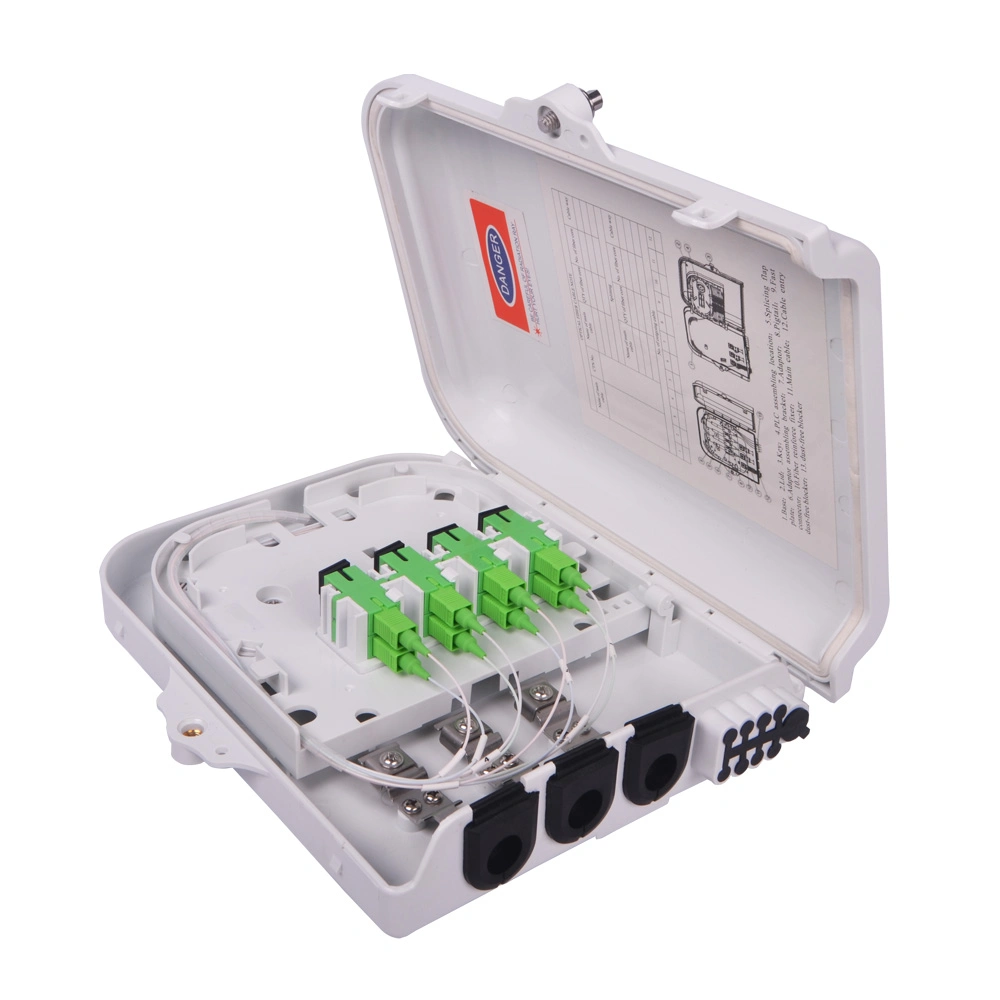 1. This box is made of SMC, life time is 20 years.
2. Bi-layer structure design. The upper layer is for optical splitter, the other layer is for fiber splicing.
3. Easy to operate. Usually installed as wall mounted in the building or at the green belt.
4. It can accommodate 2x8, 4x8 PLC splitter.
5. It can be designed to client requirements.
Input
4x RF (DVB-C, T/T2, S/S2 optional), F type
1×ASI input for de-mux, BNC interface
4xIP input for de-mux (UDP)
Tuner Section
DVB-C
Standard
J.83A(DVB-C), J.83B, J.83C
Input Frequency
47 MHz~860 MHz
Constellation
16/32/64/128/256 QAM
DVB-T/T2
Input Frequency
44-1002 MHz
Bandwidth
6M, 7M, 8M
DVB-S
Input Frequency
950-2150MHz
Symbol rate
2-45Msps
Signal Strength
- 65- -25dBm
Constellation
1/2, 2/3, 3/4, 5/6, 7/8 QPSK
DVB-S2
Input Frequency
950-2150MHz
Symbol rate
QPSK 1~45Mbauds;
8PSK 2~30Mbauds
Code rate
1/2, 3/5, 2/3, 3/4, 4/5, 5/6, 8/9, 9/10
Constellation
QPSK, 8PSK
Output
IP
48*SPTS over UDP, RTP/RTSP.
1000M Base-T Ethernet interface (unicast/multicast)
4*MPTS over UDP, RTP/RTSP.
1000M Base-T Ethernet interface, for RF in passthrough (one-to-one)
ASI
4 groups BNC interface, for RF or IP in passthrough (one-to-one)
System
Local interface
LCD + control buttons
Remote management
Web NMS Management
Language
English
General
| | |
| --- | --- |
| Power supply | AC 100V~240V |
| Dimensions | 482*400*44.5mm |
| Weight | 3 kgs |
| Operation temperature | 0~45ºC |