Product Description
Nameplates&Plaques&Metal labels stickers&emblem
We take your idea and use it to produce top quality Nameplates&Plaques&Metal labels stickers&emblem,enamel badges, and cloth badges & patches.
Share your enthusiasm
All our products have one thing in common: they help you share your enthusiasm. You may be enthusastic about your company, your club or your car. Whatever it is, we help you share this with the world.
We turn your logo, your name or even your car into an attractive, bright and colourful badge you can wear anywhere. It will show everybody what you are enthusiastic about, and invite them to ask questions.
A wide range of quality badge products
We provide a wide range of quality badge products including :
Enamel Badges
Pin Enamel Badges
Cloth Embroidered Badges
Blazer Badges
Leather Fobs
Button Badges
Identity Badges
Car Badges
Medals and Box Sets
Cast Metal Badges
Custom nameplates
Our unparalleled design support, color-matching, and manufacturing capabilities will bring to life a custom product nameplate that your company will be proud of. Every custom-made nameplate is developed to meet your unique needs and adapted to withstand its environment. No matter what project stage you're in, we're here for you to get the job done as efficiently and creatively as possible. The possibilities are endless. Scroll through our gallery to see examples of the different designs and features we offer to spark some ideas for your custom nameplate.
SPECIFICATIONS
Product Name
nameplates, signs, labels, plaques, nickel electroform stickers,logos,sinages,tags,decals,emblems
Material
Aluminium, Stainless Steel, Foil,Acrylic, Plastic,PC,PET,Bronze,Brass or other metal
Material Thickness
Customized thicknesses ranging from 0.1mm, 0.5mm, 0.8mm, 1mm,1.5mm to 3mm.
Maximum Size
25" x 25" maximum size for etch and fill
Coloring
Pantone, CMYK, custom colors
Fastening
Mechanical fastener, holes, or adhesive attachment methods
Serial Numbering
Printed, stamped or laser engraved serial numbers or barcodes
Fabrication
Custom tooling, CNC, Shearing, Laser Cut, Engraved
Durability
Durability Withstands adverse environments,3-7 year minimum outdoor durability
Production Time
3-7 Working days for samepls, 7-15 working days for mass production
Delivery
Delivered by airfreight with 1-5 working days, By sea for huge heavy goods 30days
Nameplate options
We take into account every customer's unique requirements and develop a custom nameplate solution perfectly tailored to their product. In the image galleries are some of our most popular nameplate capabilities but it is not an exhaustive list. With Yanming your nameplate options are endless.



Metal nameplates
Combined with three dimensional detailing and custom inks, metal nameplates create distinct branding. Options include:
Thin domed nameplates
Domed nameplates
Etched nameplates
Formed nameplates
Coined nameplates
Embossed nameplates
Metalphoto nameplates
Diamond carved nameplates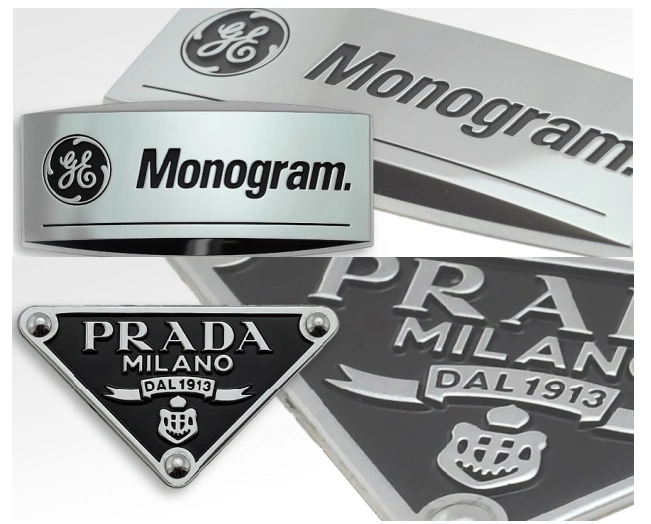 Plated nameplates
Plated nameplates showcase the finest detail to accentuate textures and finishes. Options include:
2D electroform nameplates
3D electroform nameplates
ElectraGraphic nameplates
2D electroform nameplate with custom metallic finish
Injection-molded plastic nameplate


Plastic nameplates
A lighter, often more cost-effective option; plastic nameplates are growing in popularity. We have two featured product options that include:
Flat plastic nameplates: Our flat plastic nameplates are made of polycarbonate (Lexan), polyester and acrylic. You have the option of screen printing, digital printing, and litho-printing. We provide an endless array of colors, halftones, brushed, matt, and different levels of glossy textures. Flat plastic nameplates are cost-effective, lightweight, durable, and water and chemical resistant.
Injection-molded plastic nameplates: Our injected-molded custom plastic nameplates are made of polycarbonate (Lexan) and Acrylonitrile Butadiene Styrene (ABS). You can choose from hand or robotic spray printing engraved plastic, hot or pad stamping. There are many colors and textures to choose from including 3D shapes and custom textures.

Product Features
1. Plastic nameplate material normally use PC (polycarbonate), PET (Polyethylene Terephthalate), and Acrylic (PMMA). On the material we can do 3D embossing like for key button, do printing for words and graphics, do electroplating like mirror or rainbow effect, do PU glue for dispersion effect, do mold decoration like cross curve line or any kind of graphics, do AR Coating (anti-reflective coating) to increase transparency. And also printing circuit, membrane switch, plastic card are OEM available. Finally shaping and forming is done by stamping for cnc cutting, depends on the design.
2. Metallic nameplate can present more features than plastic nameplate, include all features of plastic nameplate have. For instance, the embossing word or logo can have CNC Die-Cutting technique to show its shining effect and also give an elegant touch of three-dimensions and thickness. Another instance, Metallic nameplate can have tinier cavities or holes than plastic nameplate for microphone net sheet.
3. PMMA material can substitute for glass lens on camera products. AR coating technique can increase the transparency to 93% above and hardness technique is reaching to 4H. Mostly camera lens, cellphone lens, PSP game lens and view window are used PMMA for a lower price than glass.
4. Plastic Card has attractive good quality printing of custom design. It is widely used for member card, ID card of commercial purpose.
Materials for your custom nameplate

Choosing a material that can last for years in your custom nameplate's environment is important, which is why we always take the time to truly understand where and how your nameplate will be used before beginning the project. Here are a few materials we often use:
Aluminum: Aluminum nameplates can be used with multiple finishes and are durable and scratch-resistant.
Stainless steel: Stainless steel offers a strong, long-lasting nameplate option that can be combined with multiple treatments and finishes.
Acrylic: This clear plastic is durable and can withstand moderate wear-and-tear.
Polyester (Mylar): Polyester nameplates are very durable and can survive extreme temperature and chemical environments.
Polycarbonate (Lexan): Polycarbonate nameplates are heat, water, chemical, and scratch resistant. Polycarbonate is a strong, transparent plastic.
Aluminum nameplate finishes and textures

Aluminum nameplates are one of the most popular nameplate choices because they offer limitless options. Aluminum nameplates can incorporate embossing, die-cut shapes, screen or digital printing and infinite custom textures and finishes. Visit the gallery to get texture and finish ideas for your next aluminum nameplate.
Electroform nameplate finishes and textures

Electroform nameplates feature crisp edges, fine detail and deep relief that can be used with or without colored inks. With nearly endless texture and finishing options, 2D and 3D electroform nameplates are a premier nameplate option for high-end branding. Scroll through the gallery to see just a few of the many 2D and 3D electroform nameplate finishes available.

Company Information
Your experts for nameplates, front panels, graphic overlay.
Shenzhen YanMing Plate Process Co.,Ltd is a flexible and innovative service provider.
We supply our customers worldwide with high-quality graphic overlays, membrane keyboard overlays, stickers and labelling for various requirements and specifications in the world of industry and commerce.
We Shenzhen Yanming Plate manufacture a variety of different nameplates,front panel,control panel graphic overlays for a wide range of applications. The properties of the nameplates include: Material (including Plastic like PC, PET, PVC, PMMA and Metal like Aluminum, Stainless Steel, Brass, Zinc, Copper or titanium), Thickness, Custom Graphics, Graphics Embossing, Screen / Offset Printing, Etching, and Anodizing, Photosensitive Anodized Aluminum, Paint Spraying, and Adhesive backing...etc. In brief, all properties or special features are possible to make and manufacture by custom design.
Each product may be customized according to your own requirements with varying options for materials and manufacturing processes like screen printing, offset printing, laser marking, laser cutting, photosensitive imaging, embossing, stamping, chemical etching, digital printing engraving etc, a variety of adhesives and finishes are available to complete your product, we constantly strive to provide customers with quality service and production.
Interested in creating a metal nameplate or component?
Contact Kelly:
Other Products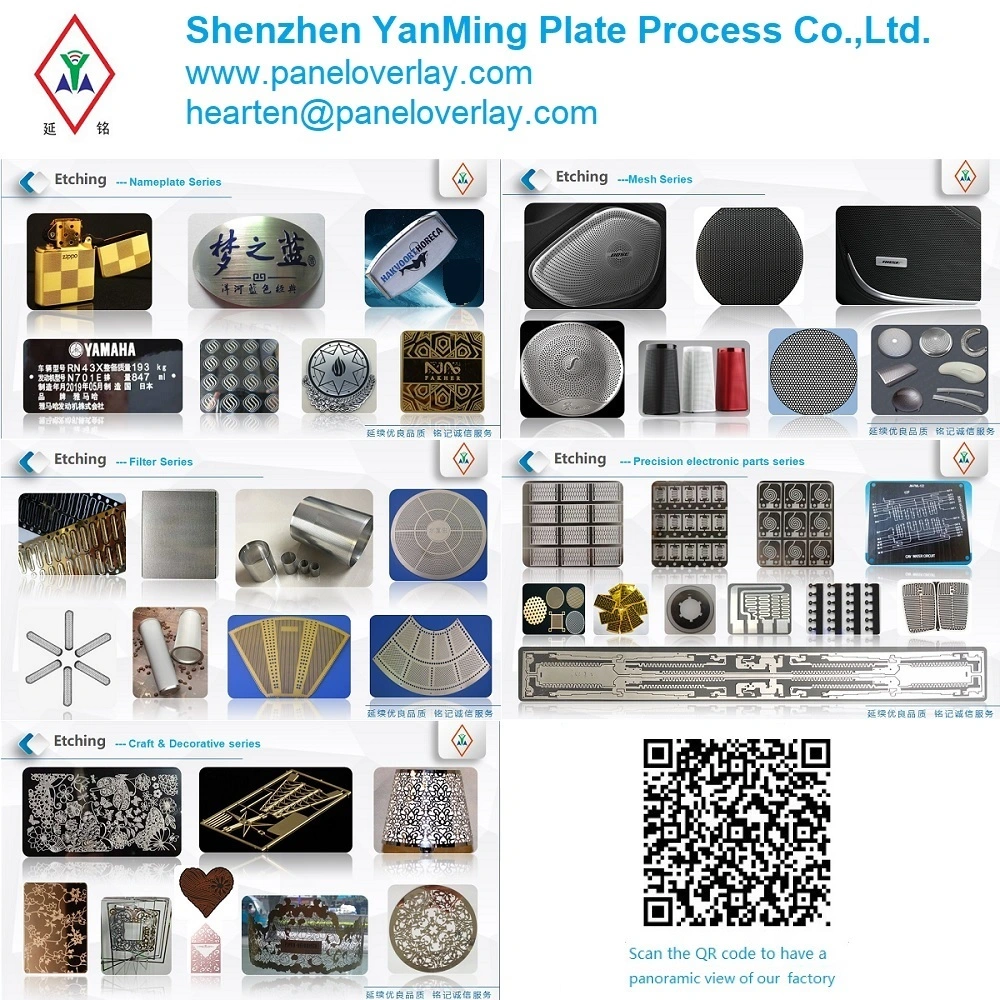 View of our Factory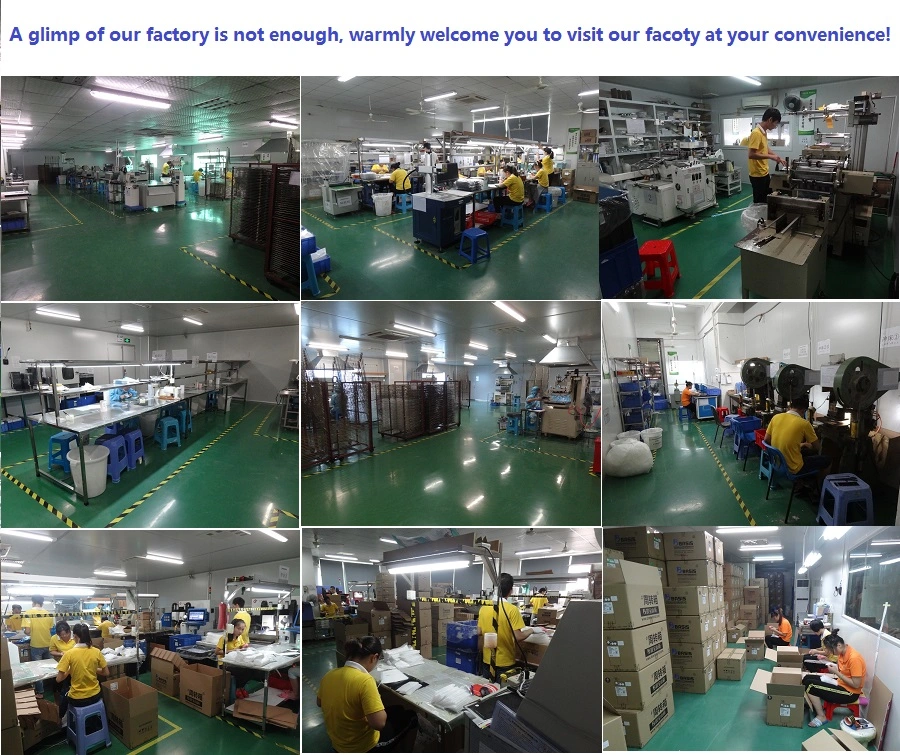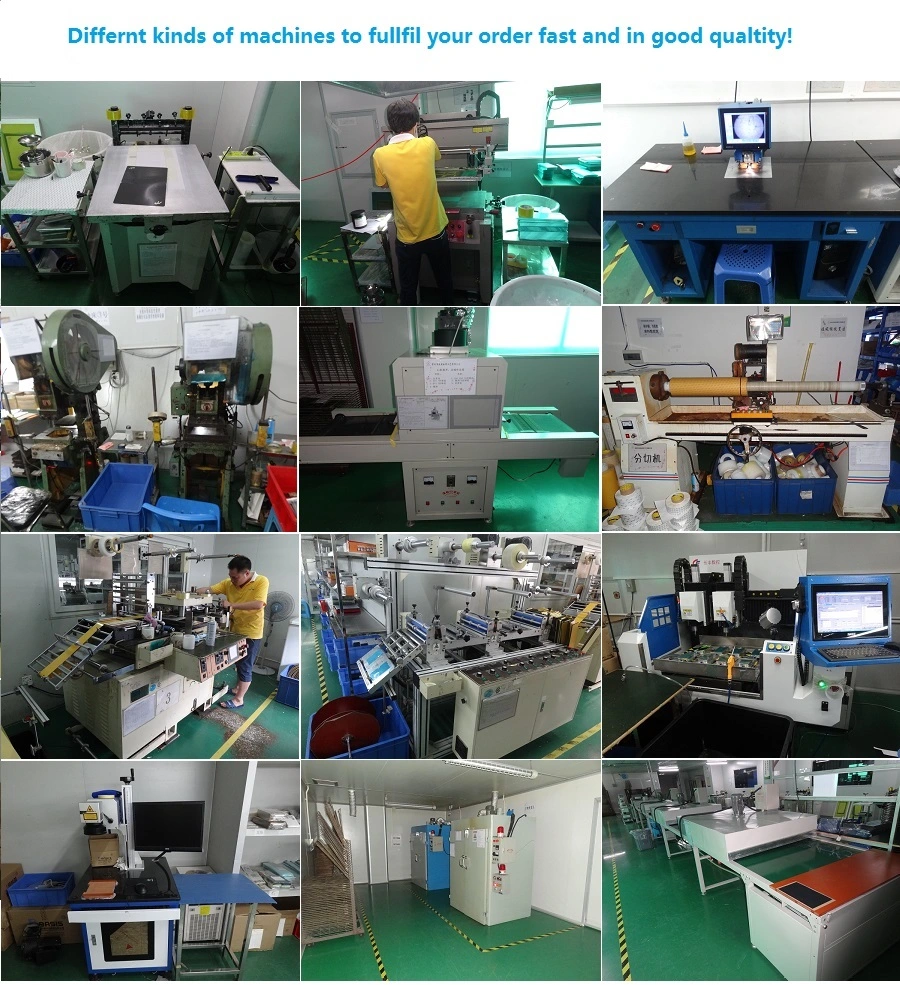 Certificate:

Welcome your Inquiry: Hearten