Durable and weather-proof ground protection mats
Introduction
Xinxing ground protection mats are perfect for allowing access to construction sites, creating walkways for pedestrians, cars, vans, JCB, cranes over both natural and synthetic turf. Also they are ideal for ground protection over bog or wet areas or uneven surfaces. A superior alternative to plywood and steel, XINXING Light duty ground mats will not warp, rot, crack, delaminate or absorb harmful chemicals. Made of a special HDPE and UHMWPE. Can be used for temporary flooring in various situations.

Keywords
Construction road mat, mobile road mat, temporary access road mat, lightweight ground mat, track mat, bog mat, heavy duty flexible plastic temporary road mat, Alturnamats, HDPE ground access mat, UHMW mats, polyethylene ground mats, path mat, mobile ground mat, polymer composite ground mat, road rugs, turf protection ground mats, grass protection ground mat, landscaping mats
,
heavy duty ground mats, standard duty ground mats, light duty ground mats, amphi mats, duramats,
base mats, quick mat. Polymer Road Plates, Composite Road Plate, Double-sided Road Mat, Mobile road pavements, Mobile Road Plate, ground protection mats 4 x 8 ft black, HDPE ground protection mat, plastic ground protection mat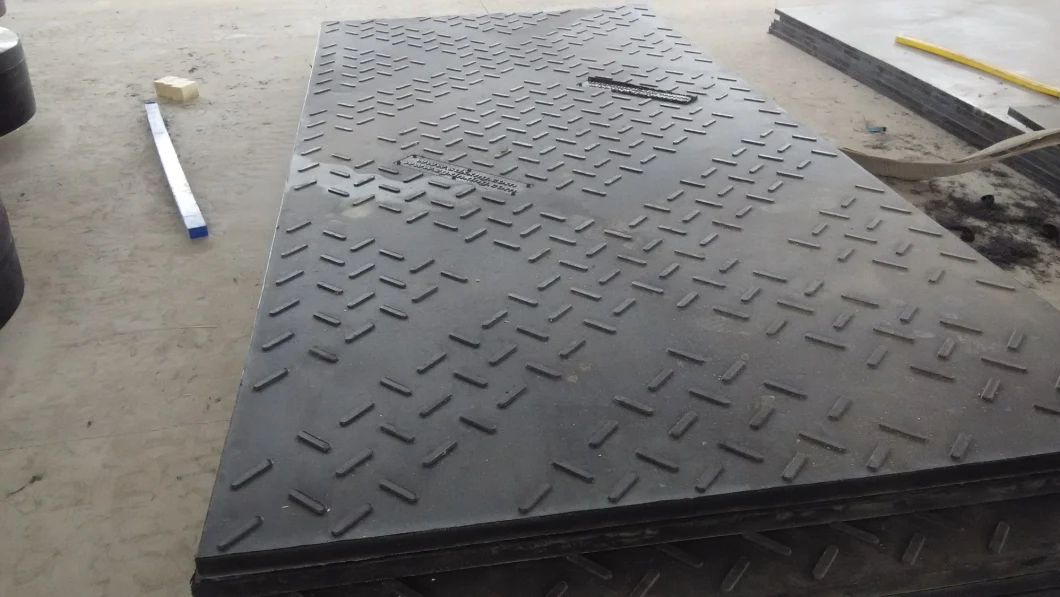 Advantages
Xinxing ground mats are durable, light weight, and strong. The mats are engineered to provide ground protection and access over soft surface and will provide a firm support base and traction for various activities.

These ground protection mats save heavy vehicles from getting stuck in mud, bog and marsh condition.

Creates an instant roadway over virtually any type of terrain (muddy, bog, marshy, uneven or soft terrain).

Superior alternative to plywood and fiberglass -will not warp, rot, crack or wear out.




Save times & labor getting vehicles and equipment traversed over difficult terrain.

Avoid potential injuries to workers incurred while dislodging vehicles & equipment from excessive wear and damage due to operating on unstable ground conditions.

Easily handled and laid by two men-no need for expensive crane wagons

Convenient to use unlike steel and plywood which requires more manpower, rots, rusts.

Highest abrasion resistance of any polymer, 6 times more wear resistant than steel

Anti-Weather & Anti-Aging

Self-lubricating, Very low coefficient of friction

Excellent chemical & corrosion resistant

superior impact resistant, Noise- absorption, Vibration-absorption

Temperature range: -2600C ~ +800C; Very

high

resistance to cold, doesn't become fragile even under -1800C

High tensile Strength




Non-Toxic and smell

UV resistance

Flame Retardant; Relatively low in water absorption

Excellent electrical properties

Good performance in resisting environment stress crack, 200 times of ordinary PE
No adhesion
Light weight and easier to handle and fix
Cost efficient; Resulting in low energy consumption
.Does not rot, split or crack; 100% recyclable
Great liner material for industrial material handling applications
Easy Reprocessed
APPLICATIONS
Turf protection

Car park

Pathways at parks or events

Construction sites

Pipeline

Temporary road

Emergency access routes

Civil engineering

Beach mats

Airports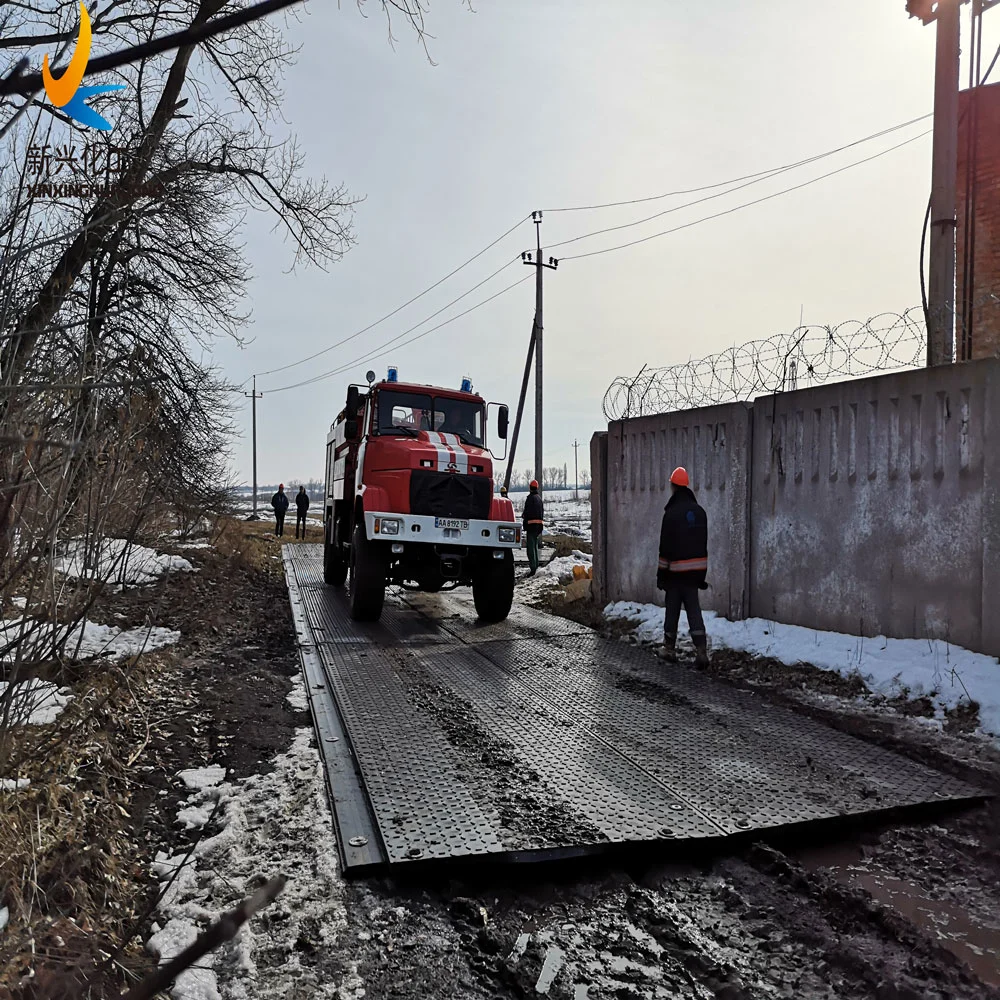 Military mats

Marine work areas

Temporary wheelchair pathways

National Parks

Landscaping

Utilities and infrastructure maintenance

Boat regattas

Cemeteries

Caravan parks

Heritages sites and eco friendly areas

Golf course and sports field maintenance

Protection your turf and provide access nearly anywhere

Temporary flooring

Stadium ground covering

Contractors

Outdoor Events/ shows/ festivals

Building site access routes

Construction, civil engineering and ground work industries

Emergency access routes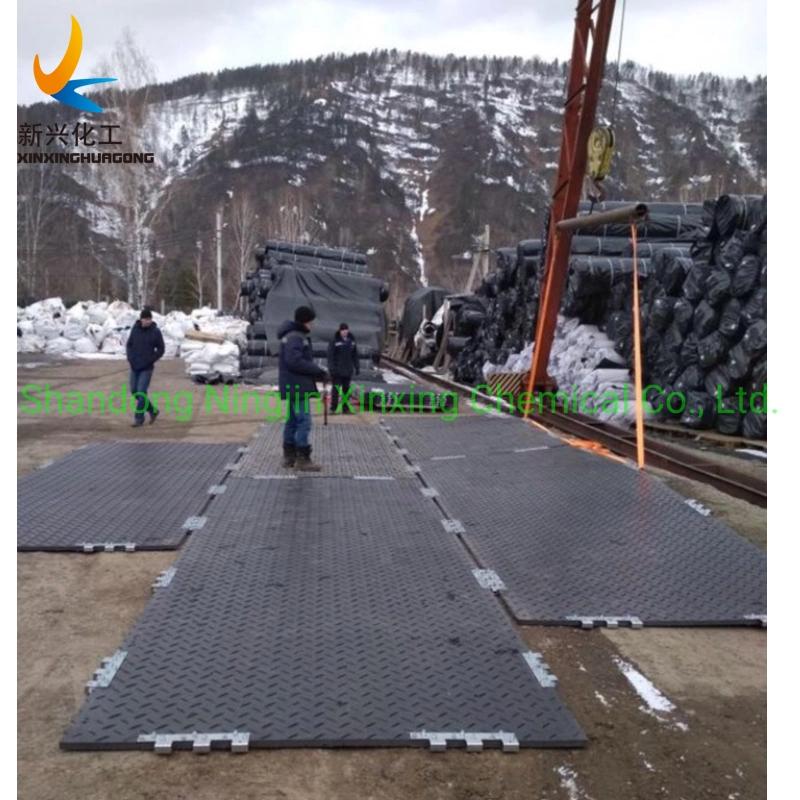 Engineering data of the ground mats
| | | |
| --- | --- | --- |
| | Unit | HDPE |
| Mechanical Properties | | |
| Tensile strength | MPa | 23-26 |
| Flexural strength | MPa | 25-28 |
| Flexural modulus | MPa | 1936-1967 |
| Charpy Notched Impact Strength | KJ/m² | 5-6 |
| Poisson's ratio | (theoretical) | 0.35-0.38 |
| Compression testing(max value before test terminated) | Tons | 250 |
| General Properties | | |
| Density | KG/m³ | 940-965 |
| Shrinkage | % | 2-4 |
| Water absorption | % | 0.01 |
| Thermal expansion | e-6/K | 110-130 |
| Thermal conductivity | W/mk | 0.46-0.52 |
| Specific heat | J/kg.k | 1800-2700 |
| Melting temperature | ºC | 108-134 |
| Glass temperature | ºC | -110- +110 |
| Service temperature | ºC | -30- +85 |
| Resistivity | ohm.mm²/m | 5e+17-1e+21 |
| Break down potential | kV/mm | 17.7-19.7 |
| Dielectric loss factory | | 0.0005-0.0008 |
| Friction coefficient | | 0.25-0.30 |
| Refraction index | | 1.52-1.53 |
Surfaces types
mostly used by trucks, cranes and cars and other heavy automobiles.
walkway
mostly used
by pedestrians temporary park routes over turf and uneven ground or dusty roads.
flat/panel
this one is plain with no grids, smooth but not slippery

NB; OUR MATS CAN BE MADE TO CUSTOMER SPECIFICATIONS

Properties of XINXING PE mats:
Factor

Value

HDPE

UHMWPE 100% RE

UHMWPE 50% RE

Tensile Strength(MPa)

22

25

28

Notched Impacted Strength Kj/m2

No break

No break

No break

Elongation at break (%)

>

100%

>

50%

>

50%

Acids-concentrated

Good--Fair

Good-Fair

Good-Fair

Acids-dilute

Good

Good

Good

Aromatic hydrocarbons

Fair

Fair

Fair

Greases and Oils

Good-Fair

Good-Fair

Good-Fair

Halogenated Hydrocarbons

Fair-Poor

Fair-Poor

Fair-Poor

Halogens

Fair-Poor

Fair-Poor

Fair-Poor

Ketones

Good-Fair

Good-Fair

Good-Fair

Alcohols

Good

Good

Good

Alkalis

Good

Good

Good

Density(g/cm

)

0.93-0.97

0.95-0.98

0.93-0.96

Water absorption-over 24 hours (%)

<

0.01

<

0.01

<

0.01

Resistance to Ultra-violet

Fair

Fair

Fair

Radiation resistance

Fair

Fair

Fair

Dielectric constant@1MHz

2.3-2.4

2.3

2.3

Dielectric strength(KV/ mm)

22

28

28

Dissipation Factor@1MHz

1-10*10

1-10*10

1-10*10

Surface resistivity(Ohm/sq)

10

10

10

Volume resistivity(Ohm-cm)

10

-10

10

10
The above date sheet results are based on the present knowledge and our present products and are given without guarantee. Different condition may have a little difference on the properties.
COLORS SPECIFICATIONS
Blue, g
reen,
Yellow,
White,
Red,

black
HOW TO INSTALL
1.Lay the ground mats flat on the ground
And insert one edge of the connector in the ground mats holes.
2.Let the second ground mats stand up and let the other end of connector go through the holes of the other ground mats.
3.Then put the second mat down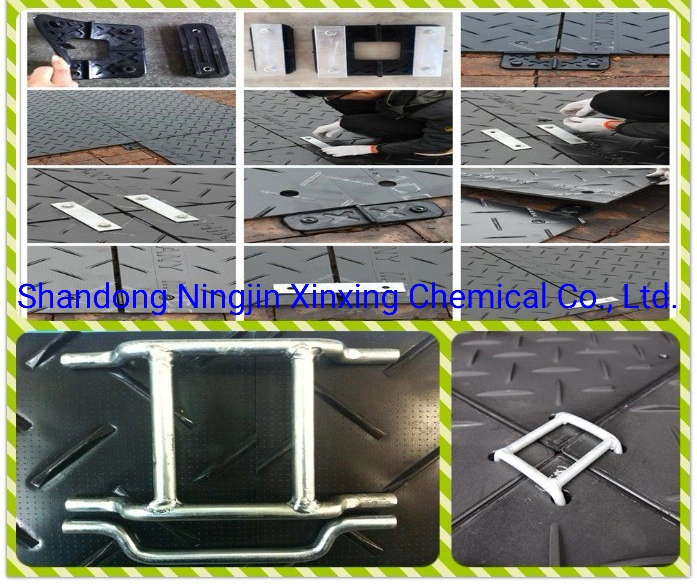 QUICK MAT
Suitable for more general purpose situations, such as light vehicle, pedestrian walkways, marquee flooring, and general protection on grass, synthetic turf and muddy areas.
Size(mm)

Thickness with texture(mm)

weight




(kg)

Effective Surface Area(sqm)

Load Capacity




(ton)

Loading container

2400*1200*12.7

22.7

40

2.88

40

320pcs in 20'GP




580pcs IN 40 'GP

2440*1220*12.7

22.7

42

2.98

40

300pcs in 20 'GP




550PCS in 40'GP

2000*1000*10

20

22.6

2.00

30

590pcs in 20'GP




1150pcs in 40'GP

2900*1100*12.7

22.7

45

3.20

40

350pcs in 20'GP




580pcs in 40'GP

3000*1500*15

25

74

4.50

80

320pcs in 40'GP
Material: virgin HDPE
Recommended thickness: 10mm, 12.7mm, 15mm, 18mm,20mm, 25mm
Color: white, black, green, blue, yellow etc.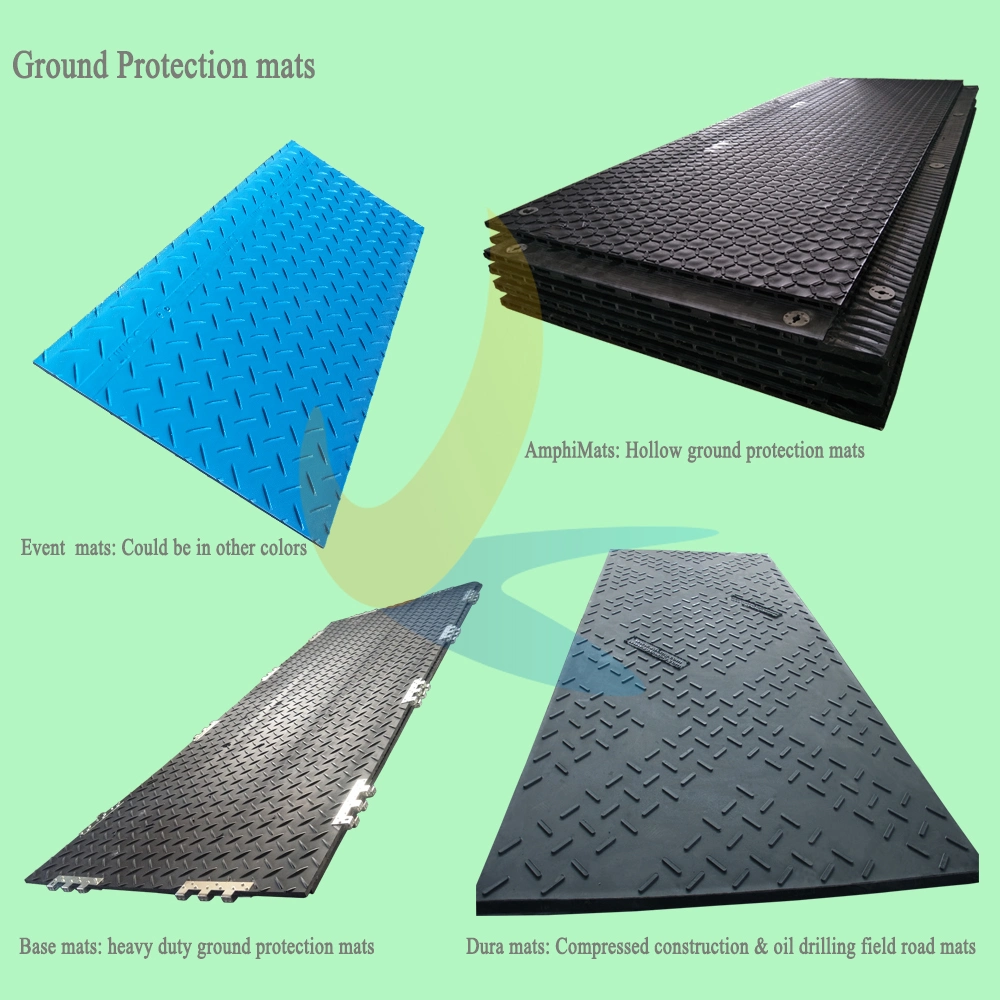 Whatever kind of mats you require to complete your project, you can find it with us. Contact us today for a free quote by phone